This week, the Narendra Modi government was expanded. However, as it turned out, it was not merely an expansion, rather complete rehash of the cabinet, with many faces, widely believed as non-performers eased out of their positions.
The expansion came with the dropping of some key names, much famed and widely seen on TV Channels, perceived to me closest to the leftist media houses. Prakash Javadekar was shunted, Ravishankar Prasad was dropped, so was Ramesh Pokhariyan Nishank. Apart from the worthies of Ministries of Information & Broadcasting, Law and IT and HRD, Dr. Harshvardhan was also dropped from health.
Before we look at the addition, it is pertinent to look at the deletions from the earlier Cabinet. Prakash Javadekar, as I&B Minister was expected to take strong stand, make statements, blast the inane propaganda in key policy initiatives that the Modi Government was taking. From Land Acquisition Bill to Demonetization to GST to Triple Talaq to CAA to Farmer's Bill- the minister was rarely seen making any impact on the ground, or even establishing the channels of communication which would render the Leftist propaganda machinery redundant. In stead of that he was seen launching books by Modi-baiters like Saba Naqvi, while the Looney- Leftist gang went for the jugular in the earnest, even arm-twisting the publishers into blocking the books by the nationalist voices on critical matters like the Delhi Riots. The fake stories on Indians losing Citizenship due to CAA and Farmers losing Lands due to Farm Bills went unchecked in Indian and Global Media.
Ramesh Pokhriyal Nishank failed big time in doing absolutely anything in his ministry. His dithering caused much ill-will among the people particularly due to lack of clarity in Pandemic season. Even when Exams were cancelled, he would wait till the very end, and even while conveying people-friendly decision, earn enough ill-will of the people who waited for clarity with mounting frustrations as people were dying around them. The NEP came with big fan fare but on implementation, nothing much moved. The way the JNU VC was brought down to the level of rampaging rogue students also does not place him on good stand. If the Government has to make an appearance of strong and decisive government, the Minister did not help it on either count.
Shri Ravi Shankar Prasad was never a grassroots leader. True, he could save his seat comfortably but opinion on-ground in Patna is not much that he could salvage even the very next constituency of his own. I would also presume, given the strong position with which BJP emerged in Bihar Elections, also gave an indication of lack of ground understanding of more visible Bihar politicians. A clever politician like Narendra Modi would have understood that BJP could have done much better without the dead weight of JDU pulling it down. Without JDU, with an ideology at cross-purpose to the BJP, the daughter of a JDU MLA allegedly involved in shooting at Hindus, BJP would have done much better by giving its voters a clear choice, instead of forcing them into -Love me, Love my dog- kind of situation. The shadows of Anurag Poddar still hangs over BJP as the same MP is one of the new inductee in the Modi government under the JDU Quota. This alliance with political parties of counter-ideology has not been very helpful in Punjab and Bihar is no different.
Also, as a Law Minister, his stint would be marred with the Judiciary routinely wading into the Executive domain. In fact, UP Government has done quite a decent job in managing to mark the line between the Judiciary and Executive and strongly objecting to any attempts by the latter to act as the Guardian of the former. As IT Minister, he helplessly went around talking to everyone from News Anchors to Post Boxes on the nonchalance with which Twitter treated Indian Government, and managed to get his own handle suspended. In IT, he was well-intentioned but ineffective. BSNL worked as a rogue, mad elephant jumping into quicksand under his leadership. His missives to the Babus of BSNL, making merry out of the mess their was in, were totally ignored. His serious instructions for timely execution of projects were given no attention as the Minister evidently had no clue about what was going on. Even Bharat Net, a failed UPA-era project which was rescued by Modi government, and which became the bulwark on which Demonetisation stood and which paved way for inclusive banking, owed its eventual success to Shri Manoj Sinha, who doggedly pursued its targets. From less than Fifty Percent Indians who had Bank accounts in 2014, not it is nearly universal. Further, as Jio turned China-free, BSNL became China-Heavy, Wired and Wireless, distributed between Huawei and ZTE.
Dr. Harshvardhan did little to bring solace to citizens during the Pandemic. His communication was often incoherent, inconsequential and in some cases, insensitive when amid rising deaths he would tweet congratulatory tweets, adulating Modi. Ideologically, he was a man in the middle of nowhere. People want to believe. A leader is supposed to give the people a peg, an anchor to tie his or her boat on in a stormy sea. A leader like Modi is sum-total of all those who follow him. Ideologically, they need to add to the ideological heft of Modi. Unfortunately, Dr Harshvardhan fell terribly short on this count. When Hindu temple in Hauz Qazi was attacked and desecrated, there were reports that local Muslim AAP MLA was leading the crowd. From the other side, the local MP, Dr. Harshvardhan was missing-in-action and appeared on the scene, two days later, after pooh-poohing the whole thing. In the pandemic, if PMO is sending the ventilators to Rajasthan and they get siphoned to private hospitals, or Oxygen Plants get budgeted for Delhi and do not see light of the day, it was the job of the Health Minister to do that, not to lobby with IMA in Ayurveda Versus Allopathic fight. His failure to implement the Modi's mandate might have helped BJP in scoring points against opposition but when people are losing their near and dear one, with ineffective I&B Minister, bumbling and unsure Health Minister did not make things easier. People may blame Modi's centralized way of governance but nothing stops a man to act on the ground in conformity to Modi's policies.
His public posturing in the Diwali Ban of Firecrackers started messing up things way early that when he fell, not one eye was willing to shed a tear. The petition to ban Firecrackers on Diwali was initiated ostensibly by some toddlers of the family of Congress leader, Dr Abhishek Manu Singhi and Dr. Harshvardhan possibly to become a darling of the west, played along, knowing full well that there was no scientific study which held Festival Firecrackers for the pollution. The West which celebrated 4th of July recently with huge fireworks, went after this Hindu festival, much as they did after Holi in the name of Save water. It might seem as a small thing but civilizationaly, Dr Harshvardhan mainstreamed the fringe insanity which comes to play itself at the time of Hindu festivals, funded by foreign NGOs. To understand the significance of this, the importance of every fading festival, I quote the happiness with which a Christian Priest from 400 AD, John Chrysostom celebrated the end of Pagan Festivals. Please understand with fun removed out of festivals, the interest of the youth and children is removed, memories of festivals fade away and eventually a civilisation is wiped off, much like Roman Pagan civilisation. These propaganda have far reaching effects, generationally, once the state falls in line and banning festivals is legalised; we notice when our kids are looking forward to next year's Halloween, not the next year's Holi. John Chrysostom had then exuberantly said
'The traditions of the forefathers have been destroyed, the deep-rooted custom has been torn out, the tyranny of joy and accursed festivals have been obliterated just like smoke.'
I do not know if the change in the Health Ministry will make things better, still now that the SC has asked for scientific justification to continue the ban (particularly when Stubble-burning has been legalised by the Government succumbing to the pressure brought in by the rioting Leftist leaders of Farmers from Punjab), at least legitimisation and mainstreaming of Hindu festivals might stop.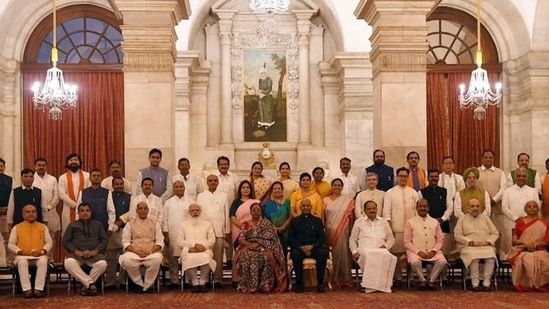 This brings us to the additions. Apart from the fact that performing Ministers have been elevated, it is important to note the fabric of the new Cabinet of Narendra Modi. The NDTV favourite I&B Minister has been replaced by Anurag Thakur, a BJP leader that the Looney-Left loves to hate. It is hard to imagine an Anurag Thakur unveiling a book by Saba Naqvi or Sanjukta Basu, for that matter. HRD Ministry goes to Dharmendra Pradhan, who is an old RSS hand. The way Ujwala scheme of free gas for the poor was managed, even the Government Petroleum firms were pulled in to support PM Swacch Bharat programme, one can believe that HRD ministry will move from snail-paced changes to Mission-mode galloping speed.
Mansukh Mandaviya has been given health. He earlier handled Chemicals and Fertilisers. His English tweets have been dug up by supporters of party run by Italian Lady who did a Certificate in English speaking from some nondescript school in Cambridge to make herself employable, herself coming from village area in Italy, to quote a Hindi Movie dialogue. Before laughing off Mansukh Mandaviya for poor English, let us remember, knowing English makes it possible for UPA Chief Sonia Gandhi communicate with only 3% Indians, knowing Hindi, puts Mr. Mandaviya at immediate talking terms with 57% Hindi-speaking population and 5% Gujarati speaking people. The man is graduate in Veterinary Sciences and Masters in Political Sciences. Just to bring things into context, Mrs Sonia Gandhi did her schooling till the age of Thirteen, one would think till Middle-School, studied English at a Language school in the City of Cambridge, met Rajiv at the age of Eighteen and married three year hence. He is also credited with quickly bringing the shortage of medicine under control. Even the administrator of Mumbai, run by Congress-Coalition on record praised him for his support, amid suddenly rising requirement in a highly infectious pandemic. A grassroots level worker, he is famous for campaigning for Girl-Child Education across 45 Villages first and later across 150 Villages. He won his first election at the age of 28 from Palitana. His daughter, Disha is a medical intern and was in news for serving Covid patients. Again to bring things into context, Mr. Mandaviya is couple of years younger than the Youth leader of Congress, Shri Rahul Gandhi, who has, of late, transformed himself into some kind of Greta Thunberg of the middle-aged.
Thus to my mind, the new Modi Cabinet represents a stiffening of stance, giving more ideological definition to his government. The other thing we see within the days of the formation of this new cabinet is that it has little room for slackness. Modi has brought in an impatient lot. We would also hope to see a lot more communication, if the immediate address of the media by Anurag Thakur and Agriculture Minister is a sign. There is a lot of picking up that the pandemic has left us with. It is expected that this cabinet will do that. The new Rail Minister has already put his staff in shifts. The alignment of Railways with Road Transport might look more logical, but politically, Gadkari seems to have earned a habit of out-of-turn talking, for instance on the medicine supplies, maybe due to a lot of media attention. The new Railways and IT Minister is IIT Graduate and has studied at Harvard with impeccable academic records. In any case, the academic credentials of this government will be much difficult to match for the left with their fill of MPhils and intellectuals like Masters in Critical Media and Cultural Studies posing as Health experts. The new cabinet of Modi is so technically and academically heavy, that it will not be easy for the Buddhist Studies gang to attack it on credentials. The new cabinet has in it 13 Lawyers, 6 Doctors, 5 Engineers, 7 Civil Servants, 7 PhD and 3 with Business Degrees.
They cannot charge the new Narendra Modi cabinet on Diversity. The new Cabinet has Eleven Women Ministers, highest ever representation in a cabinet of 71 members. Manmohan Singh's 79 Member cabinet had 10 women Ministers. Instead of being representative placards of populism, the women cabinet ministers are strong grassroots leaders with proven electoral track and have splendid professional histories.
As usual the left laments, this time on different things since the usual nonsense of 'the Right lacks talent' does not hold (Factually it never did. Left always needed a woolly minded idea of the world and was not suited for those with intellectually sharper minds). So now the reasons for lament are new. For instance, Indian Express report speaks of most diverse cabinet ever but slyly adds ' The new women ministers accommodated factors such as caste, tribe and the urban-rural divide. - which is rather funny. If that is a considered decision, it should be celebrated, if it is incidental, given that Indian society is one of the most eclectic society and therefore this cabinet represents it; it should be celebrated even more.
Second charge being made is that this Cabinet is being made with the upcoming UP elections in mind. Assuming it were true, it makes all political sense. After all, BJP is not an NGO. They need to win elections. The only other option for a political party which does not want to win Elections is to run a dubious outfit like one of Yogendra Yadav and try to break India and make money from alleged international sources. However, Looking at the facts, the new cabinet has while UP has 8 Ministers, North East too has broke into the Cabinet with expanded representations including Pratima Bhoumik, a first from Tripura and Dr. DK Ranjan Singh, an environmentalist from Manipur. The critique of higher number of Ministers from UP is also reasonable given that UP has sent 62 number of BJP MPs to the parliament. It is obvious that the ministerial berths will be more for a UP. State like Tamil Nadu, which has not sent any BJP MP, cannot seek to have as many Ministers from the State in the Cabinet. The charge that this change has been done to help Yogi Adityanath win the 2022 UP election is made, ironically by those who for a fortnight ran a series of debates on how things were bad between Yogi and Modi and Modi might not want Yogi to win UP elections.
The last argument which is made is that this is done to A. improve the standing of Narendra Modi and B. It has Narendra Modi mark written all over it. Now here is the gallup report on Leadership approval to understand, if in spite of uncontrollable pandemic which has wrecked havoc even in most developed nations, Narendra Modi needed this booster dose from strictly political perspective.
Above is the UPA approval rating. There was no pandemic and no economic pressure. People who approved the Government were less in number than those who did not. (The 2014 change is with Narendra Modi Government).
Here is Narendra Modi's approval rating on this date (6th of July, 2021) at 68%. It would seem that if anything his approval rating has gone up from what it was in October, 2019. So that this whole exercise was totally some sort of narcissistic exercise nothing to do with national development and growth, may not hold as the data tells us. If it is to better the overall political prospects of BJP in 2024 elections, with still two years to go, it shows a great deal of proactiveness of a party in majority which has recently made spectacular progress in West Bengal, going from 3 to 73 seats. Compare this with the inner fighting and lack of will or willingness to even appoint a full-time Party President by the competing opposition party.
I end this article with the funniest of the charge made to somehow downplay this important change in Governance of one of the most important countries in the world, housing world's third-largest majority religion. It is now being said that this change has Modi stamp all over. What else it should have, I ask them. The cabinet of a PM should have the stamp of the Prime Minister only because, if the decisions are wrong, in a democracy, you can change it. What is the point of having a 79 members Cabinet which has the influence of unelected and unelectable journalist from NDTV, the power of a shady lobbyist or the nuisance of an unaccountable NAC written all over it. That the hallmark of an elected PM shines over the newly formed cabinet, makes me confident and assured about the future of my country.